transformart
transformart ist das Kunstfestival in Oberschöneweide. Es findet jeweils am letzten Wochenende vor den Sommerferien auf dem Gelände des ehemaligen Transformatorenwerks Oberschöneweide (Rathenauhallen) statt.
transformart is the art festival in Oberschöneweide. It takes place on the last weekend before the summer break on the premises of the former transformer factory, Transformatorenwerk Oberschöneweide (Rathenau-Hallen).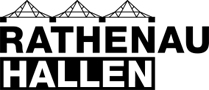 Organisiert wird es von Künstlerinnen und Künstlern, die ihre Ateliers in den Rathenauhallen haben. Wir freuen uns, als Mitveranstalter die Eigentümer der Rathenauhallen, die Toruro GmbH & Co. KG gewonnen zu haben!
Der Name "transformart" bezieht sich einerseits auf die große Vergangenheit des Geländes als Industriestandort, die wir durch die Öffnung einiger der imposantesten Hallen sichtbar und erlebbar machen.
Gleichzeitig impliziert schon der Name "transformart" einen erweiterten Kunstbegriff, bei dem bewusst Schnittstellen zwischen klassischen und neuen Genres bildender und darstellender Kunst und Musik ausgelotet werden.
The festival is organised by artists who have studios in the Rathenau-Hallen. We are happy to co-organise the festival with the owner of the Rathenau-Hallen, Toruro GmbH & Co. KG.
In one respect, the name "transformart" refers to the important history of the Rathenau-Hallen as an industrial location, which will be visible and tangible during the festival through the opening of some of its most impressive buildings.
Simultaneously, "transformart" implies an extended concept of art, to be explored through the connection of classic and contemporary genres of visual art, performing arts, and music.